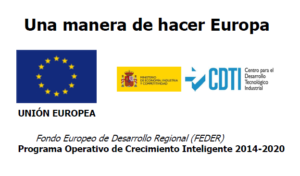 Within the framework of a programme undertaken with the Spanish Centre for Industrial Technology Development (Centro para el Desarrollo Tecnológico Industrial – CDTI) and the European  Regional Development Fund (FEDER), Tecnatom has carried out an innovation and development project focussing on the conceptual and functional design and experimentation of safe and efficient operating aid systems for electricity generating stations.
This project has gone into depth on issues such as computerised procedures systems, providing them with flexibility in use and configuration, as well as the provision of real-time aids with digital plant systems.  This type of tools allows information to be managed more efficiently, this making it easier for the operators to carry out electricity generating station manoeuvres.  Other concepts such as advanced alarms systems and specific applications for recurring plant situations have also been the subject of study, definition and development by Tecnatom within the framework of this project.
This collaboration between Tecnatom and the two public organisations reinforces experience in the field of operating aid systems and provides the plants with prototypes adapted to the most stringent regulatory and operational demands of the electrical sector.