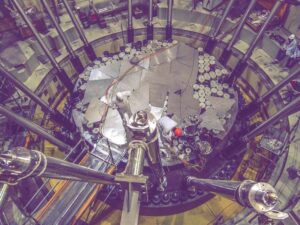 Tecnatom has designed a new system for the ultrasonic inspection of pressurised heavy water reactor fuel channels.  The equipment, which uses inspection techniques meeting the requirements set by the Electric Power Research Institute (EPRI), has been supplied to Atucha nuclear power plant in Argentina.
The equipment (known as BOCCA) allows for the inspection of dissimilar metal welds wile overcoming an important technical challenge: that the water serving as a coupling medium for ultrasonic inspection does not contaminate the heavy water cooling and moderating the reactor.
This new equipment developed by Tecnatom makes it possible to inspect 100% of the weld and adjacent material and features a light and portable design that allows the operators to handle and position it with ease on each of the channels to be inspected.
Furthermore, both the control system and the data acquisition and evaluation software belong to the standard Tecnatom family of inspection equipment.  This equipment increases our portfolio of automatic inspection systems and strengthens our collaboration with the Argentinean nuclear power plants, where we have performed numerous projects in recent years, at both the Atucha and Embalse facilities.