The supply of electricity doesn't reach every geographical region around the world in the same way. There are inhabited and industrialized remote locations with complex terrains that are difficult to access or are isolated from terra firma or production plants. This means their supply is more complicated than in the rest of the world, and at times can be less reliable from a technical and economic perspective. In these areas an autonomous electrical system or isolated electrical grid need to be created.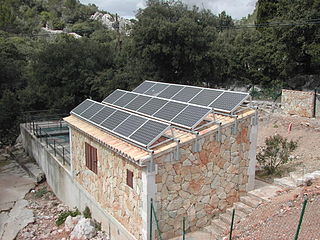 What does the phrase electric island mean?
It is an autonomous isolated electrical system or one that is poorly connected with other systems, created to supply energy independently and exclusively to the area it is located in.
These electric islands are usually quite small, they have an electricity production station, a transformation station and an electricity transport and distribution grid. Additionally, based on the electricity production source, they can also have additional storage banks or reserve sources, as well as consumers.  
In Spain we have isolated electricity systems in Ibiza-Formentera, Lanzarote-Fuerteventura, in each of the other five large Canary Islands and in the autonomous Spanish cities in North Africa: Ceuta and Melilla. Other examples of electric islands around the world are Madeira in Portugal, Corsica and Martinique in France, Sardinia in Italy, Crete in Greece, Punta Cana in the Dominican Republic, Hawaii in the USA, Baja California and Baja California Sur in Mexico, etc.
In each case, the continuous maintenance and uninterrupted operations of these electrical installations are critical to ensure the electrical supply to the population and industry in these areas, as there are no possible alternatives to fulfil the demand.   
Features of electric islands
Electric islands are delicate and difficult to manage. Their reduced size and isolation means they are more susceptible to fall short of inert events and the support of large continental or interconnected systems. 
Isolated system territories are small areas, but their energy needs are far from insignificant. They need to supply an industry or a population and tourism in the summer seasons, so dealing with peaks in demand can be a real challenge. They need to have a high reserve margin to be able to address the fluctuations in demand.  
On the other hand, their isolation also means that they are not just supplied by renewable energy production, and they depend on external noncontrollable factors. All these limitations mean that fossil fuel powered technology has to be used including diesel, fuel oil and gas, all of which are no longer used in continental systems due to their high cost and polluting effects. These conditions make the operation of isolated electric systems more complicated and result in higher production costs than with continental systems. 
Benefits of training simulation
Training simulators are a useful tool for the training and teaching of the personnel who operate these isolated systems:
They enable the training of different profiles on one unique platform, in a collaborative environment that encourages team spirit and collective learning. 

Students are active in the development of their own knowledge, skills and attitudes through experience and decision-making with immediate visible results.  

Learn by doing

: it has been shown that we better remember the things that we have a direct experience with when learning. 

Inductive learning model, from a specific situation we eventually find a purpose.  

Complex phenomenons and relationships between systems or causes and effects are easier to understand. 

It enables test scenarios and new procedures to be carried out without putting any of the plant's real equipment at risk and can also anticipate certain situations. 
Supply guarantees to the population
Tecnatom has developed nine isolated electrical facility simulators, with the overall aim of improving the understanding of the operations of these diesel stations and the functioning of the electrical generators that they comprise of, especially in adverse or emergency situations so that when these happen, operators are trained to deal with them as quickly as possible.
By using training simulators in the diesel stations on these electric islands  we have improved the plants' capacities and therefore the electrical supply to the population and industry on the electric islands.   
Electric island examples in Spain
However, these simulators go beyond that, they are not just used to improve the capacity of isolated diesel stations, they are also used to improve the management and knowledge of the electric micro-grid. This is achieved through a global training of the isolated electrical systems and the incorporation of other system factors just as with the renewable power plants, transmission lines, distribution, consumers and abnormalities and events that may occur in the system. 
The island of El Hierro in the Canary Islands (Spain) is a good example of how an isolated electricity grid simulator can be used. 
El Hierro, a Biosphere Reserve has certain conditions which mean that it can self-supply through clean energy. It is a renewable island thanks to a hydropower plant and wind farm being connected to the island's electricity system. The system comprises of water tanks, a wind farm, a hydropower plant, a pumping plant and a diesel power plant motor station. The latter is a reserve to maintain the grid stable in the case of the conditions not being favourable to the wind farm or hydropower plant. 
The diesel power plant station has a training simulator, which enables a more simple and reliable connection to the grid. The simulation of the rest of the stations and the micro-grid will be one more step towards a smart grid  being established on the electric island of El Hierro.  
Patricia Romero
Linkedin: Patricia Romero Martín