Visual inspection consists of observing the external or accessible surfaces of parts, components or materials, either with the naked eye or using optical instruments. It is the Non-Destructive Testing (NDT) technique par excellence and its physical agent – light – does not cause any damage to the vast majority of materials.
Changes in the properties of light, after coming into contact with the object under inspection, may be detected by the human eye (direct visual inspection) or by means of a visual inspection system (remote visual inspection).
Visual inspection is currently among the methods recognised by the NDT codes and standards. It is in itself a test that, with modern day technologies, achieves levels comparable to those provided by other testing methods.
What do we inspect visually?
From the moment in which a weld is performed or a component (valve, pump, piping, vessel, etc.) is installed, control by means of visual inspection is the first element of judgement used to accept an individual part or an overall system prior to its entry into service, or the first method used for subsequent testing with a view to authorising its operation.
In accordance with the ASME Code, visual inspections are generically classified in three categories depending on their purpose:
Category VT-1

: Visual inspection to determine the

general status of a component

, part or surface: structural integrity, cracking and corrosion.

Category VT-2

: Visual inspection for the

location of leakage

across the pressure boundary in systems containing fluids.  Within this category, visual inspections will be performed on in-service systems, along with leak and hydrostatic tests.

Category VT-3

: Visual inspection to determine the

mechanical and structural conditions of components

: play, tolerances, displacements and operability. Also included in this category are the functional tests performed on pumps and other rotary equipment, for example.
In addition, consideration should be given to sub-category EVT-1, which consists of a detailed or "enhanced" visual inspection, aimed at providing greater resolution than conventional VT-1 inspections.
What is enhanced visual inspection or EVT-1?
This is based on the incorporation of innovative visual inspection technologies, taking into account three aspects:
Standards recognition technology,

artificial vision, augmented reality and video signal processing, allowing for the development of new applications for the control of mechanical systems based on the acquisition of images by means of cameras and for compliance with the standard requirements for the performance of EVT-1 category inspections, such as camera angle and displacement speed monitoring. It is also possible to perform measurements on critical elements.

Image processing.

Visual inspection

(2D) performed using cameras and processing of the images by means of a specialist software allows for the automatic recognition of specific irregularities or faults and the performance of measurements on the images obtained.

Scanning of surfaces.

3D inspection by means of laser technology or standards projection. The visual inspections allow for the dimensioning (also in depth) of indications under certain conditions and, in turn, for comparison with the original design geometry (augmented reality).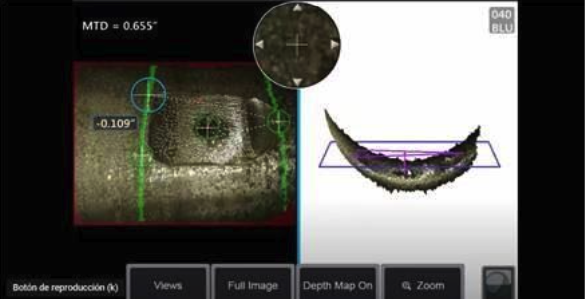 What are the benefits of this technique?
The use of these new technologies allows the operator to objectively evaluate the components to be inspected, and to avoid random human factors-related errors through comparison with actual designs and images.
Although this technology is well developed, its application to components in the field is not an easy matter, due to the influence and variability of the environment. Consequently, a clear definition of the target components is required, and development of the inspection system should be aimed at covering the widest possible range of variations.
As the international leader in NDT services and technology development, Tecnatom is able to provide developments applicable to a wide range of robot-based inspection services making it possible to increase the capacity, versatility, reliability and efficiency of inspections.