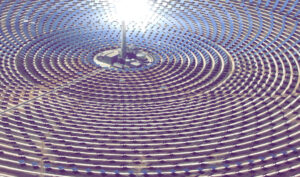 Tecnatom presents its new generic simulator for the renewable energies sector, which rests on the company's experience in the development of simulators for the power industry, where Tecnatom is a reference at international level.
In recent years Tecnatom has developed a range of simulators of varying scope for electricity-generating plants using thermal-solar technology. These developments have led to a generic simulator for a tower type thermal-solar plant.
The specific characteristics of this new product are its great versatility and possibilities for configuration, allowing for the selection of a multitude of parameters such as the electrical power generated, hours of storage, cold source location or type, migrating the simulated process to an installation as close as possible to the one desired by the client for performance of the training.
Another of the novelties of the generic simulator is its alignment with training based on b-learning, due to its being equipped with everything required for it to be a complete training tool incorporating an environment of training aids and materials, in addition to different operating modes (demo mode, guided mode or instructor mode), depending on the level of learning of the trainee. All this is possible thanks to our TeamTutor scenarios generation tool.
This new simulation product is conceived as a training tool especially adapted for user self-training, facilitating training processes and the enhancement of the levels of competence of the technical staff of this type of plants