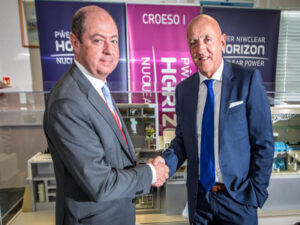 Horizon Nuclear Power has today announced a partnership with Tecnatom, a global nuclear training services provider, as it looks to grow the future operational workforce for its lead project Wylfa Newydd on Anglesey, North Wales.
Tecnatom which provides training services to a range of nuclear power stations around the world, will lead a training support team comprising GEN II Engineering and Technology Training Ltd and GE Hitachi Nuclear Energy. Collectively they bring a vast amount of global experience both in nuclear operations training generally and in ABWR reactor operations training specifically.
The training support team will provide a rigorous, Systematic Approach to Training (SAT) in line with global best practice. The initial phase of work will deliver a comprehensive training needs analysis and set the scope of the training requirements for all licenced company roles including the Control Room Operators, Field Operators, Engineers, Maintenance Technicians, Radiation Protection Technicians, Chemists and other support staff. Further phases of work will cover the delivery of training.