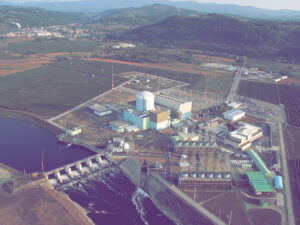 Nuklearna Elektrarna Krško (NEK), the company that operates Krsko nuclear power plant, in Slovenia, has awarded Tecnatom a contract for the inspection of the plant's steam generators during the 2018 refuelling outage.
In addition to the eddy current inspection of the steam generator tubes, the scope of the inspection includes the visual inspection of 50% of these tubes.
Tecnatom will carry out these services with the support of several international and local partners.
Krsko nuclear power plant is equipped with a two-loop pressurised water reactor with a power output of 696 MWe. The company that operates the plant is co-owned by the Slovenian state utility Gen-Energija and the Croat state company Croacia Elektroprivreda (HEP).  This plant provides more than a quarter of the electricity in Slovenia and 15% of that used in Croatia.
This new inspection contract comes in the wake of those granted previously for the inspection of the RCCAs and the supply of the control room and of a large number of valves.
This consolidates Tecnatom as the reference supplier for this plant as regards inspection activities and the supply of critical components.