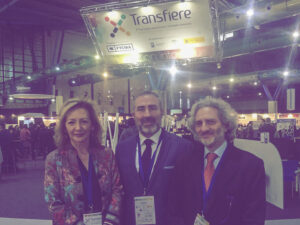 Transfiere, the European Forum for Science, Technology and Innovation, celebrated its seventh edition last September, the purpose being to create a meeting point allowing for the generation of synergies driving innovation, science and technology. A total 1,700 companies and more than 4,500 participants came together in Málaga. With 5.000 research groups, a record to date, and more than 2,000 technology projects, the event has become one of the most important meeting points for R&D&i, both nationally and internationally.
In this edition, Tecnatom has provided support for CEIDEN, the nuclear fission energy technology platform, the objectives of which are to coordinate the different national R&D plans and programmes and to participate in international programmes, attempting to provide coherent guidance for the efforts of the entities involved. This association involves all the players in the Spanish nuclear sector, from private companies to universities and including public companies and research centres. CEIDEN has been present at this edition of Transfiere represented by its president Rosario Velasco, vice-president of the Nuclear Safety Council.
Tecnatom participated in a round table session on innovation in the energy sector, explaining the company's R&D&i policy and presenting our view on the influence of innovation in the internationalisation of the company and the success achieved in its implementation on various markets. Tecnatom has long invested 10% of its turnover in innovation, this allowing us to enjoy a technological independence that gives us a competitive advantage on the markets.