With more than 2,500 wind turbines inspected around the world, the Eolos robot made its first job in Brazil at the CGN park in Santa Vitória do Palmar (RS). Three turbines were externally inspected and the results exceeded expectations. According to the cliente: "the image definition level is very good, bringing more visibility to the damage found on the blades". The online platform, where the customer accesses the inspection results, was also highly praised. In addition to photos, the web platform provides reports and technical recommendations in a very intuitive way. The software's purpose is to bring practical and valuable information to facilitate decision-making.
"The inspection reports are easy to understand and the photos have good quality, facilitating the identification of points to be repaired" Glauco Mello, O&M technician at CGN.
CGN's towers were made of concrete, but in the case of metal towers the results are even more detailed. This is due to the fact that the Eolos robot is able to climb metal towers via magnetized wheels and therefore capture photos much closer to the blades.
The four surfaces of the blades are photographed, not just the damage. All records are stored in the online platform where the client can compare the inspection results on a year-to-year basis.  On the platform, customers have access to a dashboard that shows inspection statistics as well as complete reports with technical recommendations made by blade specialists for each damage found.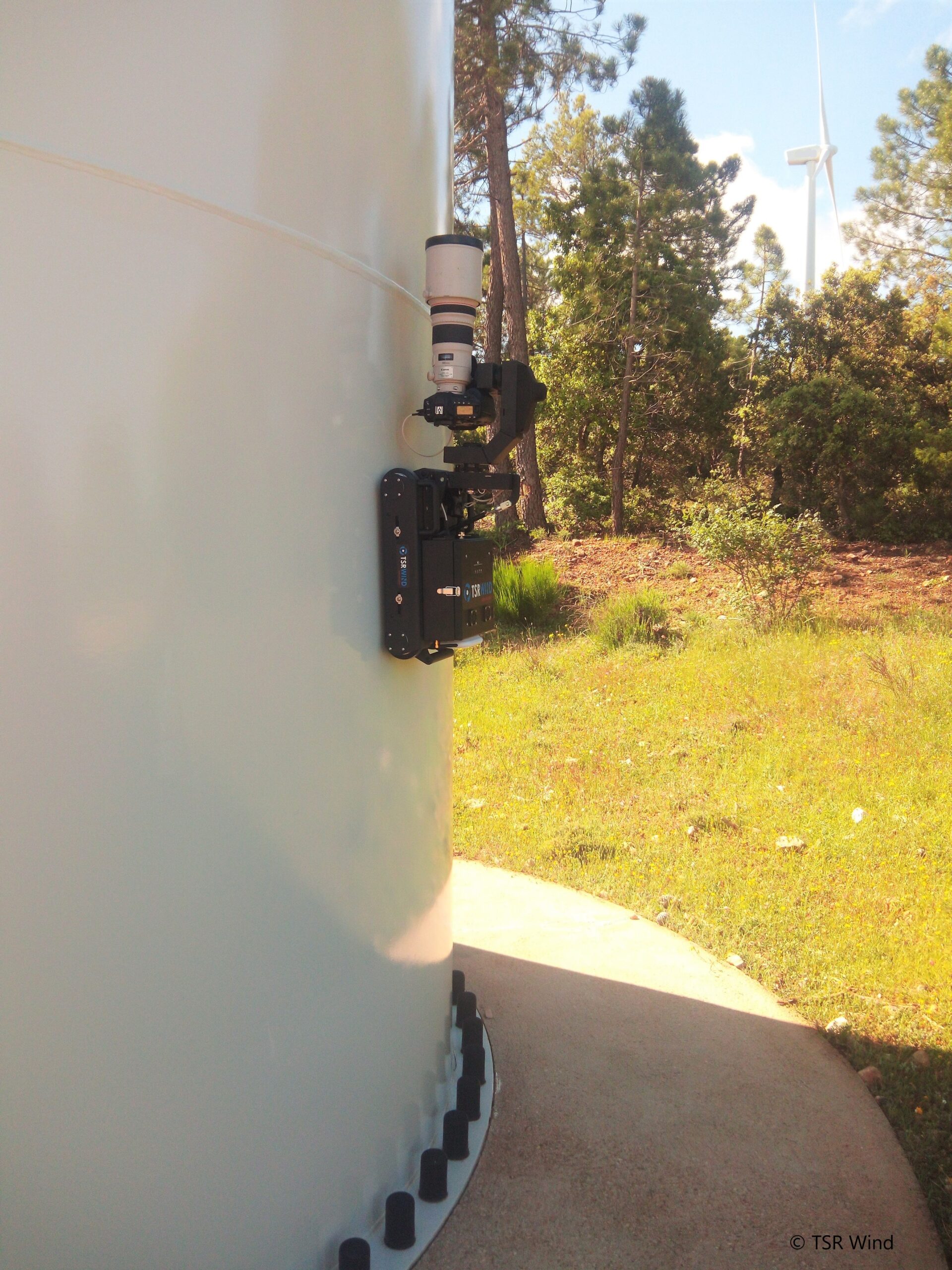 In addition to external inspections, Tecnatom in partnership with TSR Wind, also offers internal blade inspections with the Cerberus robot. The increase in the size of the blades and the height of the towers bring more challenges and dangers to workers when carrying out the internal inspections. The Cerberus robot, in addition to minimize risks, is able to inspect greater blade lenghts and confined spaces which would not be reachable by a human operator.
The robot operates remotely and is equipped with two high-resolution cameras with LED lighting on the sides which record video and images, as well as an additional frontal camera.
As a complement to the visual inspection service, Tecnatom can perform custom studies such as blade life extension diagnosis and root cause damage analysis. And, soon, a new service will come to the market, the weld inspection. The Kratos robot, which uses the ultrasound technique to inspect welds in towers, is expected to arrive in Brazil in early 2022.
For more information, visit our Website http://tecnatom.com.br/