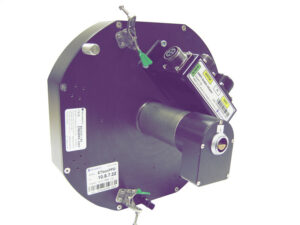 Tecnatom has developed a new eddy current system capable of integrating with the mechanical equipment used for steam generator and condenser inspections (Pushers). This is a multi-channel, multifrequency system that may be configured from any standard Tecnatom software for any type of eddy current probe, be it conventional, rotary, far-field or array.
One of the main advantages of this equipment is that it eliminates noise in the acquired signal thanks to the absence of   wiring.  Another advantage is its low electricity consumption and weight.  This is achieved by having the equipment located much closer to the eddy current measuring zone.
Integration is another of the outstanding aspects of this equipment, since its design is fully compatible with the ETBox family. Tecnatom is already using this system for inspections at plants, achieving excellent results as regards signal quality, system assembly time and the enhanced efficiency of the campaigns.