In the frame of the XI International Forum ATOMEXPO-2019, Joint-Stock Company Rusatom Automated Control Systems (JSC RASU) and Tecnatom signed the Memorandum of Understanding securing the agreement of the parties to implement joint projects in the nuclear power sector.
On behalf of JSC RASU, the document was signed by Mr. Andrey Butko, Chief Executive Officer, TECNATOM was represented by Mr. Francisco Javier Guerra Saiz, Director General.
The signed Memorandum identifies the areas, which are interesting for both parties, including digital solutions and human-machine interface, development of engineering and full-scope simulators, monitoring and diagnostics systems for specific nuclear construction projects.
Based on the existing positive experience of commercial cooperation in the area of instrumentation and control systems for nuclear power plants, the Memorandum secures the intention of the parties to extend their collaboration in the design of upper-level systems and control rooms for Akkuyu NPP (Turkey) and Hanhikivi NPP (Finland). The parties are planning to work together in life extension projects at NPPs of the Russian and non-Russian design, primarily with regard to monitoring and diagnostics systems, and to cooperate in the area of personnel training and training platforms for new build nuclear projects in third countries.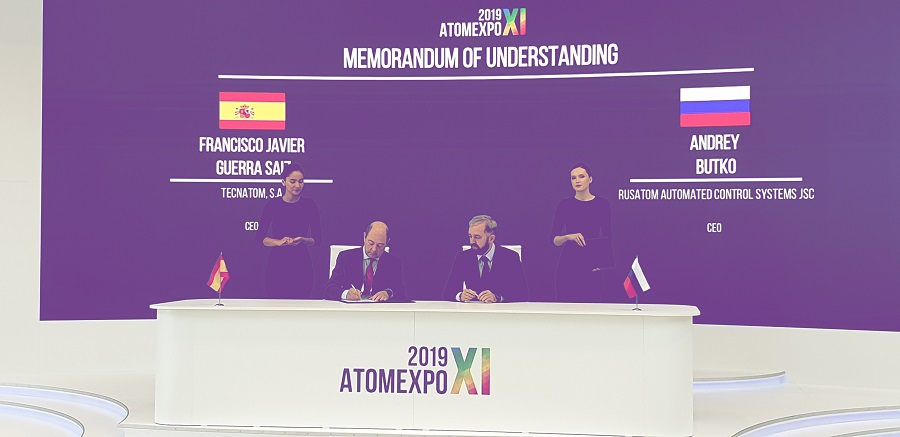 According to Andrey Butko, when I&C upper-level systems are designed, the issues of ergonomics, human-machine interface and overall MCR functionality are getting more and more important. "By signing this Memorandum of Understanding, we combine the best available developments and solutions in operator information support systems of RASU and TECNATOM. As a result, we achieve a synergy effect and come closer to the development of a breakthrough product, an augmented reality system in the I&C upper level," CEO of JSC RASU noted.
According to Javier Guerra, the design, qualification, supply and commissioning of advanced Control Rooms needs to take into account the highest standards to reduce Human Error and increase Operation Safety and Efficiency. "By signing this Memorandum of Understanding, we strength RASU and Tecnatom common capabilities and knowledge in I&C, Human Factors Engineering, Simulation and Digital Operator Support Systems,  in order to develop innovative and integrated solutions, according to international standards, for MCR which will allow an improved and more reliable operation of the plants", CEO of Tecnatom noted.