HDR means High Dynamic Range. It is common to relate this concept with photography, displays and generally with image topics. That is why it could draw attention to talk about an HDR ultrasound equipment, like SONIA GREEN. We will give you all the key aspects in this article:
What is dynamic range?
The dynamic range in the area of ​​electronics and instrumentation is the difference between the maximum specified level of a parameter and the minimum perceptible value of the same.
In applications such as ultrasound, it is the ratio of the amplitude of the largest and smallest echoes that can be distinguished. Typically this range is so large that a logarithmic scale must be used and the unit used for these relative measurements is decibels (dB), a dimensionless unit that helps to compare different measurements.
In this case more is best…Why? We will explain
 In which applications is more useful?
 Generally, in those ultrasound tests where there is a great attenuation of the signal, such as, for example:
When using the transmission method, where there is an transmitter and a receiver on the other side of the piece to be tested. (TTU)
For the inspection of materials with a lot of attenuation, such as those used in aeronautics, such as composite materials, honeycomb or thick laminates.
Also for special applications such as air-coupled ultrasound.
Sonia Green is the new standard of HDR ultrasound
With 120 dB dynamic range, the SONIA GREEN (FFT-2) is a high-performance instrument carefully designed to achieve the best results in TTU applications.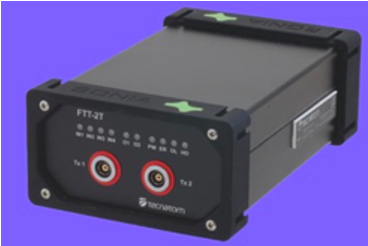 SONIA is the best response in the market to the most demanding requirements, all integrated into small, modular and robust equipment. Its distributed architecture based on fiber optic communications offers us one of the most flexible and powerful solutions for automatic ultrasound testing.
Like cameras, ultrasound signals can also be represented as images: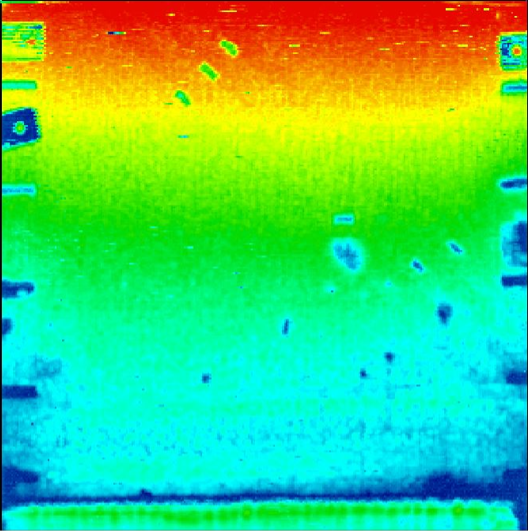 For example, we present a scan of a section of an aircraft wing. The part itself produces high levels and variations in attenuation due to the part's honeycomb core and its wide thickness range (5-160 mm). The purpose of the scan is to detect flaws in the aileron (such as adhesion failure delaminations), which are displayed as places with the highest attenuation signal.
The image shows the C-Scan (UT Attenuation Map) image of the aileron. The scan, performed using UT transmission with SONIA GREEN, shows attenuation differences of up to 120 dB.
The full range of attenuations is clearly visible on the C-Scan by the high range of SONIA GREEN. Consequently, defects present throughout the entire part (marked with red circles) can be found in a single scan.
If you want to know more about SONIA GREEN, click here: https://indt.tecnatom.es/ultrasonic/sonia-green/
Author:  Alfonso Lain Fernandez