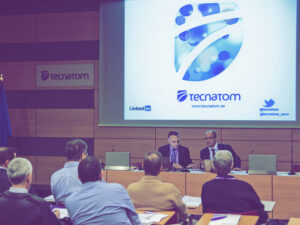 Jornada Formación 2015[/caption]
The 2016 Training Sessions were held on November 24th-25th last, and were attended by the training managers of the Spanish nuclear power plants and leading electricity utilities. The purpose of these annual sessions is to serve as an open forum in which to present to our main national collaborators the different lines of work that have been developed throughout the year, either in response to commitments acquired with them previously or as an advance regarding the initial and on-going training needs of the Spanish plants.
The sessions touched on a number of issues of relevance for the national nuclear sector, from the adaptation of the INPO methodology to the Spanish plants to Tecnatom's experience of training at international plants, including new developments in e-learning, simulation of tools for interaction with the trainee via the web.
The sessions also included open discussion sections, the results of which were very positively valued by those participating. Tecnatom will continue to organise this type of initiatives in the future, as a channel for the exchange of training-related experiences and information among the leading agents in the sector, giving rise to initiatives to continue to improve the efficiency of the training processes provided by Tecnatom to the Spanish plants.