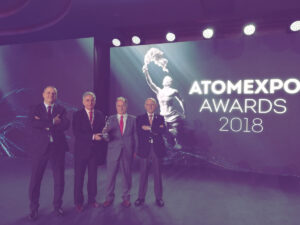 The tenth ATOMEXPO international conference, held in Sochi (Russia) a few weeks ago, was the stage chosen for the presentation of the winners in the 5 categories of the ATOMEXPO Awards.
The five categories contemplated were: "Best Launch" (most promising projects in the implementation of nuclear programmes), "Nuclear Technologies for better life" (best projects for the application of nuclear technologies in non-energy-related fields), "Innovations for the Future" (the most disruptive and innovative technology projects), "Public Communication" (best communication projects on nuclear energy) and "Human Capital Development" (best projects on the management of human capital). Proposals were received from 51 companies and organisations from 22 countries and the jury was made up different nuclear industry experts.
Tecnatom, which competed in the area of Human Capital Development, was one of the four finalists and finally walked away with the prize for its project "Learning with Soul", the company's new knowledge management platform, which will be publicly launched in the near future.  The evaluation criteria applied in this category give great importance to the originality of the project, the ambition of the tasks and their implementation, the relationship between the resources employed and the results obtained and the possibilities of replication.
The three other finalists in this category were the International Atomic Energy Agency (IAEA), the World Nuclear University and the Hungarian PAKS nuclear power plant.  The prize was finally awarded to Tecnatom for the innovative characteristics of the SOUL platform and for what, in the opinion of the jury, it means in terms of investment in the future.