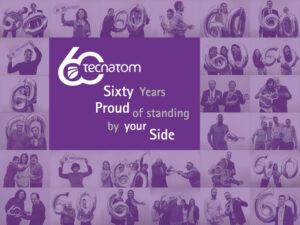 This month Tecnatom celebrates the sixtieth anniversary of the founding of the company on April 11th 1957, thereby becoming one of the longest-lived companies in the Spanish nuclear sector.  Over these 60 years, thousands of technicians have been part of our workforce and have contributed to our currently commanding a consolidated position as a business group present in more than 40 countries and enjoying a far-reaching technological and sectorial diversification.
The nineteen fifties was a key decade in the development of nuclear programmes for peaceful applications at world level, and was the framework in which Tecnatom was set up as a studies office by a number of companies belonging to the electricity, chemical and metallurgical sectors.  In constituting the company a clear set of objectives was set out, aimed basically at not leaving untouched any field relating to nuclear energy.  These objectives were crystallised in 1964, when Tecnatom undertook the management of the construction project for Spain's first nuclear power plant: José Cabrera.
The National Electricity Plans of the late 1960's contemplated an ambitious expansion of the nuclear programme, with Tecnatom becoming the common engineering, inspection and training services company for the seven electricity utilities involved in the national nuclear programme.  In the 1980's, Tecnatom decided to develop its own in-house technology, promoting investments in R&D&i in order to guarantee technological independence.  Today this approach continues to be one of the cornerstones of the company, which dedicates around 10% of its income to this type of activities.
The situation in the mid 1980's, with the nuclear moratorium in full swing, led Tecnatom to intensify its activity on the international scene, beginning an expansion that has led to us currently having subsidiaries in China, the Arab Emirates, France, Brazil, Mexico and the United States and to our operating in the energy, aerospace, iron and steel, oil & gas and transport sectors.
Tecnatom has been offering innovative, high added value solutions to its clients across the world for 60 years.  We have grown together with them and have developed technology and products providing them with solutions adapted to their needs and improving the safety of their facilities and the efficiency of their processes.  We are looking forward to continuing by their side for at least another 60 years, proud of having provided them with support over the years and of having contributed through our work to their technological development and to the safety of the sectors in which we have participated.