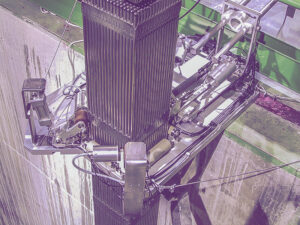 Tecnatom and ENUSA have reached an agreement for the supply of an irradiated nuclear fuel inspection system for the Suzhou Nuclear Power Research Institute (SNPI), in China. The equipment will be used to determine the thickness of the layer of oxide that forms on the surface of nuclear fuel rods during operation, and will also be used to measure the diameter of these rods.  A new method based on artificial vision technology is being developed for this latter application, the first time that such technology is used for this purpose.
The equipment, known as SICOM-COR, belongs to the SICOM family of irradiated fuel inspection systems that ENUSA and Tecnatom have developed jointly in recent years.  This family is made up of ten types of equipment that allow for the characterisation of a wide variety of irradiated fuel parameters, from the dimensional analysis of fuel assemblies to the detection of leaking assemblies and rods.
This contract comes about just months after the three companies signed a framework cooperation agreement referring to nuclear fuel inspection in the Chinese city of Shenzhen in February.  The cooperation between ENUSA and Tecnatom and SNPI began in 2014, with the signing of an agreement for the supply of SICOM-UT equipment.  This system for the ultrasonic inspection of irradiated nuclear fuel was delivered in 2015 to the SNPI facilities at Daya Bay, in the province of Guangdong.
SPI is also an important technology partner for Tecnatom, since the two companies share the ownership of CITEC, a Chinese company that renders services to nuclear power plants and whose headquarters are in the Chinese city of Shuzou.