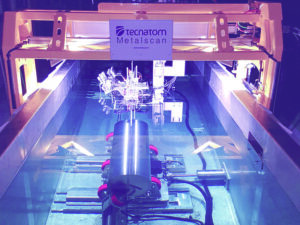 Tecnatom's French subsidiary Metalscan has designed an immersion tank for the performance of high and low frequency ultrasonic inspections.  This new inspection system incorporates the SONIA technology, developed by Tecnatom, capable of operating in both frequency ranges using the same Inspectview software.
This tank has been designed for regular use with rods (both round and square) with a maximum diameter and length of 300 and 1000mm, respectively.  The mass limit for the items to be inspected is around 300 kg.
The scanning system is equipped with four motor-driven axes, providing a high degree of flexibility in the performance of inspections and great ease of use.  Furthermore, the system is fitted with special devices that eliminate any external vibrations that might influence the measurements of the equipment.
Thanks to these innovations, this new equipment is capable of detecting defects as small as 20um in the materials inspected.