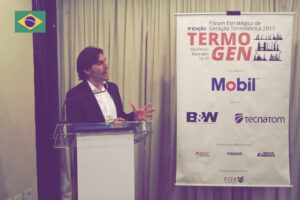 The 3rd edition of the Strategic Forum on Thermal Generation (ThermoGen) was held in São Paulo (Brazil) on February 16th-17th.  This meeting is promoted by the Brazilian Thermal Generators Association (ABRAGET), and every year brings together the leading players in the thermal power plant electricity generating sector.
This years' edition included the participation of the Tecnatom Group, through its subsidiary Tecnatom do Brasil, as one of the sponsors of the event, and it also presented a paper entitled "Thermal power plant operation economic optimisation tools".
The forum was also attended by representatives of regulatory bodies, such as the National Electricity Agency (ANEEL), companies promoting new installations (Bolognesi Group, CELSE), companies operating thermal power plants in the country (EDF, Eletrobras, Eletronuclear, CPFL, Petrobras) and equipment and service suppliers (Siemens, Babcock & Wilcox, Nalco), among others.
Participation in this type of events is part of the Tecnatom diversification strategy encompassing activities that provide synergies with our nuclear portfolio, where we have consolidated our services to the Brazilian nuclear power plants in the fields of inspection, training and equipment supply