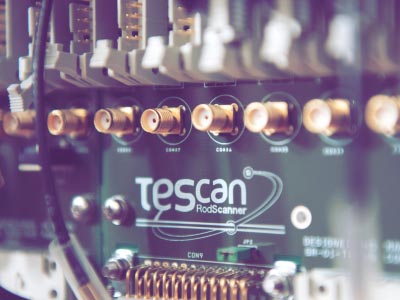 Tecnatom has developed a new product for real-time quality control of fresh nuclear fuel rods: TESCAN, the first unit of which has recently been delivered to Industrias Nucleares do Brasil and is now incorporated in the production process.
The new system allows for the diagnosis of fuel rods in the production line in order to verify that they have been correctly manufactured, checking the levels of 235U/238U enrichment of the pellets contained in the rods, the percentage of gadolinium doping and the inside of the rod by means of a densitometer based on a radioactive source.
Along with the scanner, fuel rod handling, transport and selection automata have been supplied and manufactured, all of this having been integrated in the rod production flow at the INB manufacturing facility in the town of Resende.One of the major novelties of this equipment is that the inspection rates achieved are comparable to those currently obtained with active scanners, which imply the use of very intense radioactive sources that require complex logistics because of the difficulties involved in their commercialisation.  As a result, our new TESCAN equipment implies the minimisation of radiological risks and an increase in the economic effectiveness of the installation.