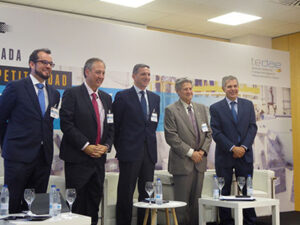 The Tecnatom Group has participated in the 2017 edition of JEC Asia, the tenth edition of this reference event on composite materials in the Asia-Pacific area, held for the first time in Seoul, South Korea, between 1st and 3rd of November.
On our stand we exhibited a wide variety of systems and applications aimed at covering the requirements of the aerospace industry: reduction of time and costs in manufacturing processes, automation of all their phases and improved safety. South Korea is one of Tecnatom's main clients, with a number of robot-operated inspection systems installed at the GNTP research centre, the Korean manufacturer Songwol and Korea Aerospace Industries  (KAI).
In addition, we participated, presenting papers, in the session "Competitiveness of the aeronautical sector" organised by TEDAE in collaboration with the Foundation for Research, Development and Application of Composite Materials (FIDAMC).  Specifically, Tecnatom was part of the round table that dealt with a number of cases of success by aeronautical companies, a sector in which we have been working for almost three decades developing our own in-house technology for robot-based systems, NDT hardware and software and semi-automatic and portable equipment, among other solutions. Airbus Operations, CESA, Aernnova and the aeronautical clusters in Madrid, Andalusia and the Basque Country, among others, participated in this session.