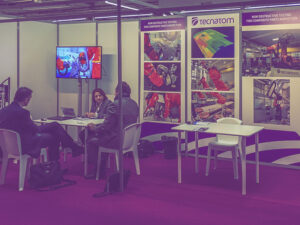 The aviation sector closed 2016 with one of its most important events: Aeromart. The eleventh edition of this important business platform took place between November 29th and December 1st, Tecnatom attending as in previous years with a stand of its own.  More than 30 Spanish companies came together at the Toulouse Exhibition Complex trade fairs centre, where 1,300 companies from 45 countries held more than 15,000 business meetings.
Tecnatom showcased its latest generation inspection equipment and its in-house technology on a stand on which numerous B2B meetings were held with potential clients.  France is one of the company's main markets, as is demonstrated by the recent awarding of the supply of two new robot-operated inspection systems for the Airbus factory at Nantes, which are added to other systems of this type operated by Tecnatom at the Corse Composites Aéronautiques and Daher-Socata factories, as well as to others provided by its French subsidiary Metalscan.
Aeromart Toulouse has celebrated its twentieth anniversary with a series of special conferences that have transcended the purely aeronautical, with a special area dedicated to avionics in the Exhibition Complex.