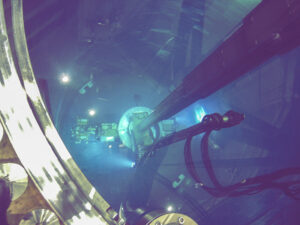 On July 21st last, unit 1 of the Almirante Álvaro Alberto nuclear power plant (Angra 1) was reconnected to the grid following refuelling outage 1P22.  As the main contractor within the framework of the 2013-2018 multiple cycle contract, Tecnatom has undertaken the following inspection and testing activities:
Ten-year automatic inspection of the reactor vessel (including the vessel closure head bolts).
Ultrasonic inspection of safety injection system welds.
Inspection of reactor vessel, internals and bottom and closure head penetrations.
Inspection of low pressure turbine LP1 rotor disks.
Diagnosis of motor and air-operated valves.
The presence of a large number of Tecnatom and Tecnatom subsidiary technicians was necessary for the performance of this work.  Especially relevant has been the participation of Tecnatom do Brasil.
To the tasks performed during this refuelling outage and pertaining to the multiple cycle contract have been added others corresponding to contracts awarded to Tecnatom subsequently, these consolidating our presence on the Brazilian nuclear market.