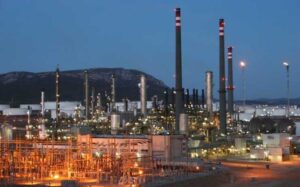 Tecnatom has been awarded two inspection contracts for performance during the maintenance outage at the Puertollano oil refinery in Spain. These contracts are part of the strategy pursued by the company for the diversification of its products and services in other industrial areas, such as the oil sector.
The Puertollano refinery, owned by Repsol, was inaugurated in 1966, and its installations manufacture a number of products of daily use such as butane gas, propane or the fuels used in ours cars.  With a refining capacity of 7.5 million tons of oil a year, it is one of Spain's most important petrochemical complexes.
Tecnatom will carry out two projects during the forthcoming maintenance outage at the plant. On the one hand, in-the-field testing and a metallurgical study of the fuel-gas FCC lines and, on the other, a study of remaining lifetime as a result of hydrogen attack in several reactors.
Through these contracts Tecnatom aims to strengthen its presence in the Spanish oil and gas sector, an area that is of strategic importance for our business and in which activities implying synergies with our traditional lines of business allow us to offer our clients high-tech services providing important levels of added value.