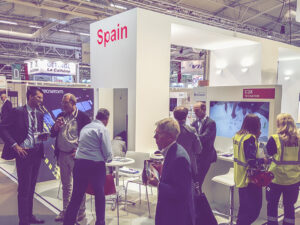 Tecnatom participated in the 19th World Conference on Non-Destructive Testing (WCNDT), a world-class event specialising in non-destructive testing and its application in different sectors of the industry that was held this year in Munich (Germany).  More than 2,200 experts and 350 exhibitors registered for this important fair, with more than 857 papers presented during the technical sessions.
Tecnatom participated in the event with a stand of its own and delivered three technical presentations, two focussing on the nuclear sector: Check Valve Diagnosis by Sectorial Scanning Phased Array Ultrasonic Technique and Ultrasonic Testing of ITER Toroidal Field Coil Cases Closure Welds.  The third was entitled Laser Ultrasonics Inspections of Aeronautical Components by Means of Robotic Systems.
Furthermore, Tecnatom also participated in the second edition of the World Nuclear Exhibition, which took place in Le Bourget – Paris.  This event, the most important in the sector at world level, attracted almost 700 international exhibitors and was visited by almost 10,000 people.
Tecnatom participated in this event through a joint Spanish nuclear industry stand, managed by ICEX España Exportaciones e Inversiones, which housed 11 companies in its 136 m2.  On this stand Tecnatom was able to showcase its technological capacities and strengthen relations with its international clients, while moving ahead with the establishment of new alliances within the framework of the company's process of internationalisation.