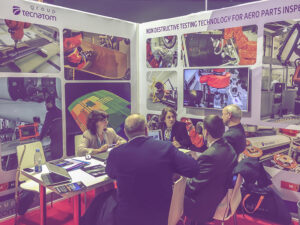 As in previous years, Tecnatom has participated in the JEC World Composites Show & Conferences, an event that has taken over from the previous JEC Europe and that has celebrated its first worldwide edition this year in Paris with the participation of more than 1,300 companies from the composites industry.
Tecnatom once again had a stand in the Spanish pavilion, shared with its French subsidiary M2M. This area showcased the company's extensive range of inspection systems, including robot-operated systems and in-house hardware and software technology allowing for complete integration of the inspection process.
Among other activities, Tecnatom maintained an intense agenda of meetings with potential clients and others that are already part of the company's portfolio, such as South Korea, the JEC World 2016 invited country and one of Tecnatom's main clients for the supply of inspection equipment, with five systems already implemented.