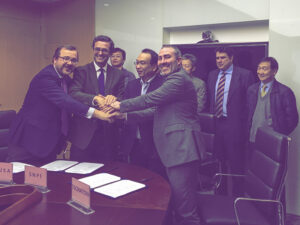 On January 28th last, the representatives of Enusa, Tecnatom and the Suzhou Nuclear Power Research Institute (SNPI) formalised the signing of an important framework agreement for cooperation in the field of nuclear fuel inspection systems and equipment. In keeping with this agreement, the three companies undertake to work jointly and collaborate preferentially with a view to placing the fuel inspection equipment and technologies developed by Enusa and Tecnatom within the Chinese group CGN, to which SNPI belongs.  The CGN (China General Nuclear) group currently has 16 reactors in operation and another 11 under construction, making it the leading Chinese plant operator in terms of installed capacity. The group is also embarking upon an ambitious internationalisation plan, and has reached agreements for the construction of new reactors in the United Kingdom and Rumania.
The cooperation between Enusa and Tecnatom and SNPI began in 2014 with the signing of an agreement for the supply of SICOM-UT equipment. This system, for the ultrasonic inspection of irradiated nuclear fuel, was successfully delivered in 2015 to the SNPI facilities inDaya Bay, in the province of Guangdong.
Furthermore, SNPI is an important technology partner of Tecnatom since both companies are joint shareholders in  CITEC, a Chinese company providing services to nuclear power plants and headquartered in the city of Shuzou.
This agreement will make it possible to intensify the activity of the two Spanish companies on the Chinese nuclear market, where several items of equipment for quality control during the manufacturing phase of nuclear fuel have been supplied in recent months for the Yibin fuel production facility, owned by the CNNC corporation.