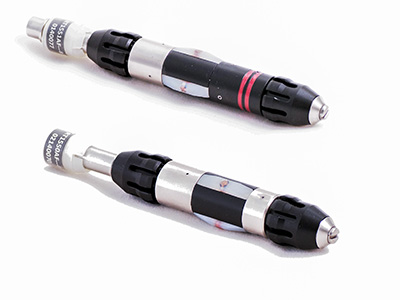 One of Tecnatom' activities consists of providing inspection services in relation to the main components of nuclear power plants. In the case of PWR technology facilities, one of the key components are the steam generators, which incorporate thousands of Incoloy tubes.
In order to ensure the integrity of each of these tubes, Tecnatom carries out non-destructive tests based on eddy current techniques, using continuously evolving in-house technology. Presented here, within this framework of technological independence, are two new eddy current probes that have just completed their development phase and that will be fitted to our steam generator inspection equipment.
With the capacity to manufacture this type of rotary probes for tubes (in addition to those already available, such as Bobbin and Array probes), Tecnatom complements the capacities of its inspection systems, thereby increasing the independence of our technology.  Two types of probes have been implemented: a standard rotary probe with three sensors and another with two sensors plus a Bobbin type sensor for the simultaneous performance of the two types of tests in those tube areas in which this is required.
These probes are in the final phase of testing and validation and will provide Tecnatom with a product that will complete our catalogue of probes for both in-house users and external clients, while allowing us to consolidate our autonomy with respect to third-party suppliers