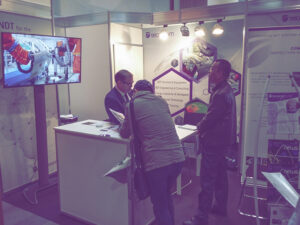 Tecnatom has participated in the 19th World Conference on Non-Destructive Testing (WCNDT), a world event specialising in non-destructive testing and its application in different industrial sectors.  More than 2,200 experts attended this important event, which included a large exhibition area (276 exhibitors confirmed), an intensive programme of conferences (673 in 144 sessions) and a packed agenda of meetings and workshops.
Tecnatom participated in this congress with a stand of its own and presented three papers during the technical sessions.  Two of these focussed on the nuclear sector: Check Valve Diagnosis by Sectorial Scanning Phased Array Ultrasonic Technique and Ultrasonic Testing of ITER Toroidal Field Coil Cases Closure Welds.  The third and last paper was on the robot-based inspection of aeronautical components using laser-generated ultrasonics: Laser Ultrasonics Inspections of Aeronautical Components by Means of Robotic Systems.
The Tecnatom Group was not only present at the 19th WCNDT in Munich through its parent company; M2M and Metalscan, Tecnatom's two French subsidiaries, were also at the event, the former with a stand of its own showcasing the latest enhancements to its GEKKO portable inspection system.