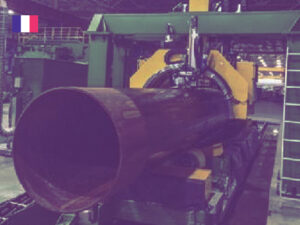 Metalscan, one of the French subsidiaries of the Tecnatom Group, has developed a new automatic system for the inspection of SAW piping welds.  This type of submerged arc welding piping is widely used in the oil and natural gas sectors for the transport of inflammable substances.
SAW piping is characterised by having longitudinal welds (L-SAW) or spiral welds (S-SAW), and to date the inspection of this type of welds has been performed using a complex system of 16 conventional ultrasonic probes.  This technique required specific calibrations depending on the type of weld, the diameter of the piping or the thickness of its walls, this implying periods of several hours for adaptation of the equipment in the event of a product change.
Metalscan has developed a new item of equipment that uses phased-array ultrasonics, a flexible technique that provides a compact solution easily adapted to any type of pipe diameter or wall thickness geometry.
With this automatic system we present a solution requiring very few mechanical adjustments, this drastically reducing calibration times and allowing for accurate inspection of the welds while increasing the efficiency of the process.