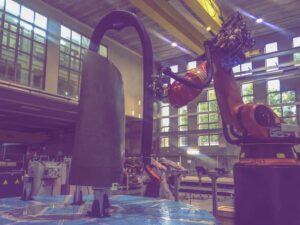 Last September a TAURUS system especially adapted for the inspection of revolving parts in the aeronautical industry successfully passed the pre-acceptance tests run by one of Malaya's main manufacturers.
This is an automatic inspection system in which the robot is mounted on a plinth and inspection is performed by means of a rotating table, this facilitating the inspection of cylindrical parts, which are very common in the aerospace sector.  One of the main novelties of the system is the incorporation of a carbon fibre yoke measuring more than 2 metres in length, allowing for the inspection of fan cowl type parts by means of the transmission technique and using a single robot.
The final delivery of the equipment is scheduled for the end of the year.  This is the second item of equipment supplied to this Malaysian client, consolidating this Asian country as one of Tecnatom's reference markets in the aerospace sector.