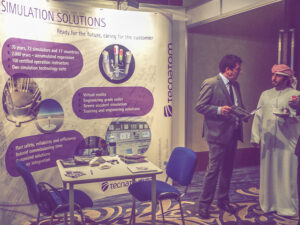 Tecnatom has actively participated in this year's Second Middle East Nuclear Training and Simulator Forum.
Since 2012 the objective of these forums has been to serve as a platform facilitating contact and information exchange between energy sector technology experts. Specifically, this form focuses on nuclear simulation and the training of plant operators and was held in Abu Dhabi (United Arab Emirates).  The event brought together professionals from companies in the sector and universities with nuclear programmes in Middle Eastern countries.
Tecnatom had a relevant presence at this event through a commercial space in the conference exhibition area, where it showcased its latest developments in the field of nuclear simulation.  In addition, several conferences were given during the technical sessions in relation to the modernisation of nuclear power plant full-scope simulators.