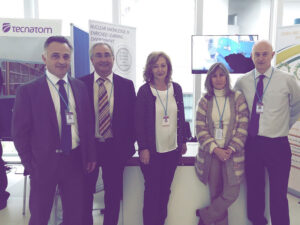 Tecnatom has participated in the Third International Conference on Nuclear Knowledge Management, organised at the IAEA headquarters in Vienna, which brings together experts from across the world, mainly from the nuclear sector but also from other areas of activity.
Tecnatom had a stand of its own at this event, where it showcased its capabilities in training and also exhibited the activities carried out by the CEIDEN platform, which we represented at this event along with its president, Rosario Velasco.
Within the framework of the technical programme, Tecnatom presented the paper "Nuclear knowledge creation and transfer in enriched learning environments: a practical approach ", along with a poster with the activities of the CEIDEN knowledge management group.
As part of the congress activities, the Ambassador of the Spanish permanent representation at the United Nations organisations in Vienna. Gonzalo de Salazar, organised a meeting between the Spanish officers and experts stationed in Vienna and those attending the conference.
This event has served also to promote a meeting at institutional level between the presidents of CEIDEN and of the Latin American nuclear E&T network, LANENT.  This meeting was followed by the 4th CEIDEN- LANENT technical meeting, which was attended by several of these institutions' high-ranking representatives.