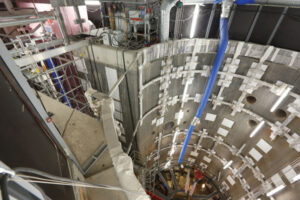 Tecnatom is undertaking inspection of the Jules Horowitz experimental Reactor (JHR) heat exchangers.
These heat exchangers were manufactured by the company ENSA within the framework of the collaboration agreement in place between the Spanish nuclear industry and the French CEA for the development of this reactor.
The Jules Horowitz Reactor is being built at Cadarache, in southern France, and is a pool type reactor with a power output of 100 MW that will be used for experimental and medical purposes, including the production of Molibdenum-99 and Tecnecium-99, two of the isotopes most widely used in medicine for radiodiagnosis applications.
Tecnatom has been involved in the development of this reactor from the very beginning, undertaking additional activities such as the supply of an experimental simulator.