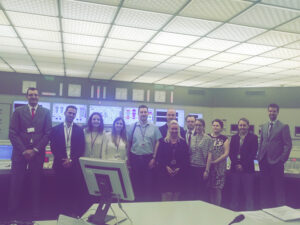 Tecnatom has received a visit from a group of representatives of the Finnish company Fennovoima Oy, accompanied by the companies RAOS Project (Finland/Russia), RUSATOM SERVICE (Russia) and ROSATOM-CICE&T (Russia). Fennovoima Oy is the owner of the Finnish Hanhikivi-1 nuclear power plant, where a Russian technology reactor, model AES-2006, a 1.200MW VVER, is to be installed.
This visit is encompassed within the Hanhikivi-1 operating personnel training programme, which Tecnatom is carrying out in collaboration with the Russian companies.  This programme is part of the collaboration agreement that Tecnatom signed a few months ago with RUSATOM SERVICE and ROSATOM-CICE&T for the extension of bilateral cooperation in the nuclear industry, more specifically in the fields of training and service activities at the plants.
The visit took place at the Tecnatom headquarters in Madrid and at the company's installations in Tarragona, where Tecnatom has two full-scope simulators and a human factors simulator.