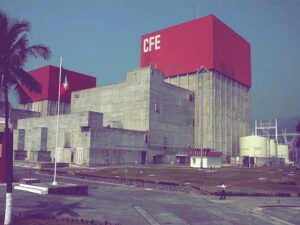 Tecnatom has completed its activities for the eighteenth refuelling outage at group 1 of Laguna Verde nuclear power plant, in Mexico.  This outage began on August 4th last and the plant was re-coupled to the national grid on September 17th.
Tecnatom was awarded maintenance services, functional testing and removal of snubbers, valve diagnosis and advisory services for Level III non-destructive testing inspection personnel.  In addition, the company has provided support for the plant in the licence renewal activities currently being carried out.
The work has been performed by Tecnatom personnel in Madrid and a number of people from other group subsidiaries, as well as by local technicians.  Subsequently, a large part of this team of people will participate in the fifteenth refuelling outage at group 2 of the plant, scheduled to begin on October 12th, in which Tecnatom will also perform a wide range of activities.