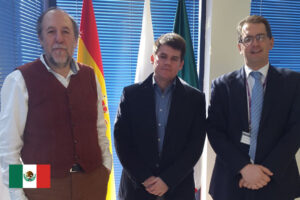 The Technology and Advanced Studies Institute of Mexico (ITESM) and Tecnatom have signed a collaboration agreement aimed at identifying actions of mutual interest in the energy sector and developing joint initiatives in relation to academic collaboration, research, entrepreneurship and educational innovation.
This agreement will favour Tecnatom's participation in projects driven by the Energy Reform in Mexico, in particular in the Binational Laboratory for the Intelligent Management of Energy Sustainability and Technology Training, an initiative designed to prepare and strengthen the capabilities of the Mexican energy sector's human resources. Likewise, the two parties have identified opportunities in the use of advanced technologies and specialist simulation in training environments.
The Monterrey Technology Institute, founded in 1943, is Mexico's leading private University and a reference for technical training in Latin America. Its work is supported by civil associations, integrated by a large group of outstanding Mexican leaders committed to quality in higher education. The Monterrey Technology Institute is accredited nationally and internationally, both as an institution and as regards its academic programmes.