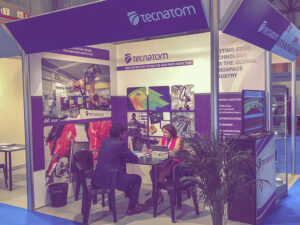 The Tecnatom Group has participated in the fourth edition of the Aerospace & Defense Meeting, the most important business event in the aerospace sector held in Spain, which this year took place in the city of Seville from May 15th to 18th.
The Tecnatom aerospace division exhibited on its stand a wide range of systems and applications based on in-house technology, especially in the field of inspection systems, non-destructive testing and control engineering.
Tecnatom has twenty years of experience in the aerospace sector, where we have consolidated our position as global suppliers of robot-operated systems for the inspection of aeronautical components. In this edition of the ADM we have showcased our latest breakthroughs in this type of systems, such as the incorporation of thermography in a robot-based TAURUS system, or our wireless positioning system WiiPA® (WIreless Encoders Inspection, based on Phased Array), which facilitates the manual inspection of areas of different geometries (large or small).
In this edition, ADM Seville attracted the participation of more than 1,100 professionals from more than 350 companies in 28 countries and has served as the setting for more than 8,000 business meetings over its two days. Tecnatom has been one of 152 Spanish firms participating in this fourth edition, with Madrid being the most widely represented region, followed by Andalusia with 47 companies.