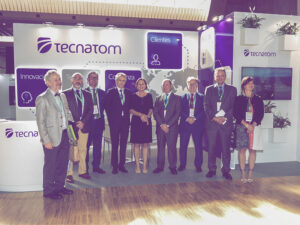 The Spanish Nuclear Society is an organisation that involves all the participants in the Spanish nuclear sector and that once a year organises its Annual Meeting, the latest edition of which was held in the city of Santander.  Aware of the importance of this event for our sector, Tecnatom made a significant contribution to the Annual Meeting by way of a strong presence in the technical programme and a stand in the commercial exhibition.
Twenty-six papers were presented during the technical programme, in the sessions on maintenance, quality, organisation and human factors, training, radiological protection and the environment, engineering and innovation, fuel, operation, the design and performance of structures, systems and components and cybersecurity. Tecnatom also coordinated or chaired five sessions over the three days of the meeting.
Furthermore, Francisco Sánchez, the Tecnatom director of safety, operation and training, received the Juan Alberto González Garrido prize, awarded by the Jóvenes Nucleares (Nuclear Youth) association.  This award is given in recognition of the person who has contributed most value to the association over the last year.
Finally, within the framework of the social programme, Tecnatom sponsored the now traditional cultural event, held on the first night of the conference.  On this occasion the event was a concert of classical music and took place at the Gran Casino de Santander, which this year celebrates its centenary.